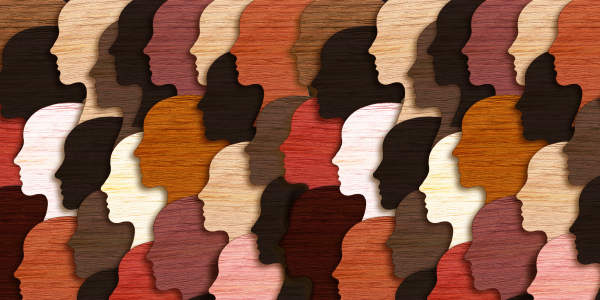 By the LACDMH Cultural Competency Committee and Sandra T. Chang, Ph.D., ARDI Division – Cultural Competency Unit
With a strong acknowledgment of "May is Mental Health Month", the LACDMH Cultural Competency Committee (CCC) took the initiative of sharing their members' favorite practices to promote personal mental health. All these coping strategies have been bundled as a gift from the committee to all Los Angeles County communities with a very special message:
Each life matters, our lives and wellbeing matter
Our physical and mental wellbeing require active acts of kindness coming from ourselves for ourselves
It is when we take good care of and love ourselves that we can best love and take care of our families, friends, and others around us
"What Works for Us May Work for You"
Identify your personal words of inspiration for a healthy attitude

Hope, because of being able to survive difficult times like the pandemic. "Hope" is helping each other, elevating, and pulling each other up.  There is a universal hope, realizing that we are all having to deal with COVID-19 together.
We can all give hope and encouragement to each other and help each other to keep going.
Optimism and faith: These are the two words that are keeping me alive despite a diagnosis of a brain tumor.
Breathing is the gift of the Creator. I am grateful I can breathe on my own.
Find inspiration to keep going in the good around us

I reflect on the strength, endurance, and resolve of my ancestors and imagine they are in the conversation with me during difficult times.
Give each other support in these trying times.
Relax your body and your mind

Take a break when you are dealing with stress and other challenges.
Playing with Legos helps to get my creative process going and it helps my immune system.
Prayer and meditation, especially the "serenity prayer" is a part of my healing.
Find sources of joy with others around you

The sound of children's laughter brings me joy.
Connect with your family and friends. They are constant sources of love, inspiration, and encouragement.
Being a preschool teacher, the children bring me a lot of love.
Rely on good friends such as 12-step friends.
Helping others makes me happy.
Love and appreciate your pets

My cats make me happy.
Being around sweet and cute animals.
Do more of what you love to do

I love to read, especially the Harry Potter book series.
Sharing cherry vanilla ice cream with a good friend.
Go shopping, window shopping, or just looking around.
Sit in the park and watch all the little creatures: squirrels, dogs and little kittens playing.
Drawing helps me release stress. It helps me to relax, calm down, express how I feel without words.
Singing is my form of therapy. I remember the songs my mother used to sing to me when I was a little girl.
Music is my therapy.
Writing poetry as part of my therapy: "Don't let the sadness simmer, don't let the darkness burn inside you. Be that voice that breaks the walls of silence.  Be the one who in spite of the tidal wave of pain inside you, you choose to be the voice your brothers lost, the voice of so many out there who have lost their lives to suicide.  Be the voice for so many who are still surviving, still making it to another day."
I love to go on walks and take pictures of flowers, animals, scenery. It is a way to soak in the environment and beauty around me.  There is so much beauty right now during Spring.  It all makes me smile.
Self-care

Taking baths.
Using wellness tools such as meditation and blowing bubbles.
Sitting outside and enjoying the sun.
Exercise

Part of my healing is running. Having lost two brothers to suicide, I decided to sign up for the Los Angeles Marathon.  I needed to find an outlet and running was the beginning of my journey.  Running is part of my therapy.  I run to face my darkest moments.  Running is a great stress reliever, and it is great for one's mental health.
Walking and practicing yoga as part of my healing.
Going belly dancing on weekends.
"Many Cultures, One World."
About LACDMH's CCC
The CCC serves as an advisory group for the infusion of cultural competence in all departmental operations.   Organizationally, the CCC is housed within the Anti-Racism, Diversity and Inclusion (ARDI) Division – Cultural Competency Unit.  The Mission of the CCC is to "Increase cultural awareness, sensitivity, and responsiveness in LACDMH's response to the needs of diverse cultural populations to foster hope, wellness, resilience, and recovery in our communities."   In recognition of the richness of cultural diversity, the committee's motto is "Many Cultures, One World."
The richness of the CCC's diversity can be easily appreciated across various elements of culture including race and ethnicity, language, gender identity, preferred gender pronouns, sexual orientation, physical and cognitive abilities and disabilities, and a wide variety of agency affiliations.   The CCC membership represent multiple cultural and linguistic perspectives of consumers, family members, advocates, Directly Operated and Contracted providers, administrative programs, and community-based organizations.  The CCC embraces the "for all" philosophy and advocates for equity and inclusion of all cultural groups.  Everyone is welcome to our Committee.   To learn more and access our schedule of monthly meetings, visit us at: https://dmh.lacounty.gov/ccc
The CCC actively engages with its members and amplifies their collective voice.   In 2021, amidst the encroachment of the COVID-19 pandemic, social unrest, and hate crimes against specific cultural groups, the Cultural Competency Unit in collaboration with the CCC created this on-line Cultural Traditions and Connections Column as a safe space to share, learn, celebrate, and connect our collective cultural experiences.
The CCC welcomes articles and content for the Cultural Traditions and Connections column from the community!
Do you have a cultural practice or tradition that has influenced you and you want to share with others?
Do you enjoy writing short stories, anecdotes, poems, and reflections?
Do you have photographs you would like to share?
Join the Cultural Traditions and Connections Movement
We would love to feature you in future newsletter issues!
For additional information and to submit content for the column, please contact the Cultural Competency Unit at DMHCC@dmh.lacounty.gov.