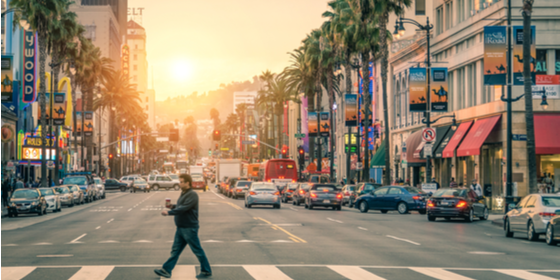 "Hollywood 2.0" is LACDMH's pilot project to provide comprehensive, community-based care and services to people experiencing mental illness and homelessness in the Hollywood community. Since receiving the L.A. County Board of Supervisors' unanimous approval in November 2021, LACDMH has worked diligently to build a robust stakeholder engagement process alongside an expansion of clinical and field services in the Hollywood region, which has one of the highest concentrations of individuals experiencing homelessness and mental illness.
This innovative format of service delivery is inspired by the mental health care system in Trieste, Italy, which is internationally recognized for its human-centered and hospitality-oriented approach to meeting well-being needs while fostering a sense of autonomy and purpose to support personal recovery. Inspired by Trieste's approach, LACDMH has partnered with Hollywood 4WRD, a grassroots public-private coalition of stakeholders and service providers, to utilize similar strategies to transform the Hollywood community into a model of care and engagement unparalleled in the U.S.
To support this transformative care model, LACDMH will:
Increase its clinical and field-based services and resources – particularly in its Full-Service Partnership, Homeless Outreach and Mobile Engagement, and Peer Service Programs – so there will be more opportunities to interact with current and potential clients in the clinic and on the field.
Develop and expand collaborations with public agencies, care providers, and community partners to increase the capacity of board & care facilities, crisis residential treatment beds, co-occurring disorder treatment programs, and wellness/social services in the area, allowing individuals and families to access the appropriate level of care without leaving the Hollywood region.
Rigorously engage with Hollywood community's stakeholders, businesses, and organizations, who play a vital role in the recovery journey by providing additional resources necessary for well-being, such as stable employment, permanent housing, skills training, and opportunities for socialization and recreation.
Community engagement events will be posted on the LACDMH event calendar as soon as they are announced, and Hollywood-area stakeholders and organizations are invited to join to learn more about Hollywood 2.0, LACDMH's services in the area, and to provide feedback. Interested individuals, businesses, and organizations can also email H20@hollywood4wrd.org for additional opportunities to get involved.
We look forward to collaborating with the Hollywood community to make the area healthier, safer, and more connected for everyone!