by Helen Salcido, Community Member
My name is Helen. I am an 80-year-old retired librarian. I am also a mother of three beautiful daughters and four amazing grandchildren. I grew up in a rural area in San Bernardino with every possible type of fruit trees that you can imagine.
This Pandemic has been very difficult. I miss getting together with my friends. Being retired, I was used to having a fully-booked calendar with many appointments for lunches with friends and birthday celebration dinners. Some call it being a "social butterfly," but to me it's all about loving and sharing with the people who are dear to me. As Barbra Streisand's song says: "People who need people are the luckiest people in the world." Until this pandemic gets under control, there are many things that we can do to take care of ourselves. Here are my top choices: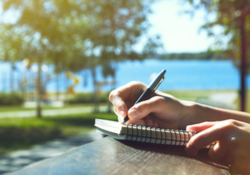 • Go walking with one of my neighbors (I walk with a cane, but little by little I have built up my endurance to walk up to three miles daily)
• Sit in the sun to relax and contemplate the beauty around me
• Keep up with old friends by chatting on the phone, including my cousins color in my inspirational coloring book with my crayons
• Read novels
• I give thanks to God that I woke up today, I'm healthy, I'm alive and I'm so blessed
• Spend time with my dog
Out of all these, the most important thing is love. Do not deprive yourself of it at any cost, like insecurities and your own fabricated excuses. If you love someone, show it. Do not keep it to yourself. You never know how long you or that person will be around. Do not risk living with such a regret. Embrace life and embrace love.