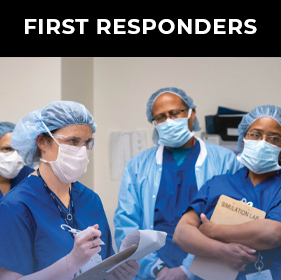 The Los Angeles County Department of Mental Health LACDMH has created the LA County Wellbeing Line as a resource specifically for LA County employees and first responders. This Wellbeing Line provides support for the unique challenges frontline staff, first responders and other County employees are experiencing as they selflessly continue to serve LA County's residents during these unprecedented and unpredictable times. Employees can use this Wellbeing Line to access emotional first aid related to COVID-19 stressors, assistance navigating mental health services and referrals to grief and bereavement resources.
The LA County Wellbeing Line provides free support to frontline staff, first responders and County employees at (833) 307-0509, available daily from 11 a.m. to 7 p.m.
Please help us increase awareness of – and access to – this unique resource through this toolkit. The LA County Wellbeing Line is an important tool to take care of first responders and frontline workers, so that together we can take care of our communities.
Our DMH+UCLA Public Partnership for Wellbeing has also compiled a collection of resources and services for County employees, frontline workers, school staff, and care professionals.
Additional resources: