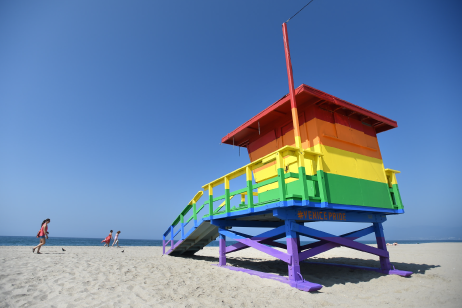 LACDMH is committed to promoting the wellbeing and resilience of LA County's LGBTQ+ individuals and communities, which represent a diverse range of gender and sexual expressions, identities and orientations.  While belonging and identifying in this community can be a source of pride and strength, it can also present unique challenges, such as being targeted by acts of homophobia, transphobia or biphobia; trauma from coming out or self-expression in unsupportive environments; or from a lack of culturally-competent mental health services.
Our department stands ready to support your mental health, and our Help Line is available 24/7 at (800) 854-7771 to connect you with mental health professionals and services who are specially qualified to work with LGBTQ+ individuals and families.
The Wellbeing for L.A. Learning Center published this collection of LGBTQ+ Resources, which includes videos, courses, virtual trainings, and printable tools aimed at providing support to school communities throughout L.A. County.
We also encourage you to explore the LGBTQ+ programs and resources below to optimize your wellbeing and participate in our stakeholder engagement process through our LGBTQIA2-S Underserved Cultural Community.
Trevor Project Lifeline: (800) 788-7386
The Trevor Lifeline provides support to LGBTQ youths and allies in crisis or in need of a safe and judgment-free place to talk.
Trans Lifeline: (877) 565-8860
Trans Lifeline provides peer support for the transgender community, and is run by and for trans people.
SAGE National LGBT Elder Hotline: (877) 360-LGBT (5428)
The SAGE Hotline connect LGBT older people and their caregivers with friendly responders who are ready to listen.
National Suicide Prevention Lifeline for LGBTQ+ Community: (800) 273-8255
This page offers information and resources for LGBTQ+ individuals who are struggling with suicidal feelings or mental health crises.
LGBT National Help Center
A national resource that provides LGBTQ+ community with free & confidential support and referral resources via phone, text, and chat.
Colors Youth
This non-profit organization provides free and unlimited mental health services for LGBTQ-identified youths ages 25 and younger.
Los Angeles LGBT Center
This center offers a broad range of health & social services, cultural education, and leadership development resources for the LGBTQ+ community in the Greater Los Angeles area.
National Alliance on Mental Illness (NAMI) LGBTQI Page
This page highlights the unique mental health needs of the LGBTQ+ community and includes hotlines and resources to help address those needs.
211 LA's LGBTQ+ Page
This page includes information on free and low-cost health, human, and social services for LGBTQ+ individuals and families in LA County.
LGBTQ+ Resources
The UCLA Prevention Center of Excellence offers training, consultation, and implementation support for educators and school teams in LA County. This collection of resources includes videos, courses, virtual trainings, and printable tools aimed at providing support to school communities throughout LA County."
PFLAG
PFLAG is the nation's largest LGBTQ+ family and ally organization, with over 400 local chapters dedicated to creating safe communities for LGBTQ+ individuals and families.  Chapters within LA County include:
It Gets Better Project
The It Gets Better Project inspires people across the globe to share their stories and remind the next generation of LGBTQ+ youth that hope is out there, and it will get better
Rainbow Labs
Rainbow Labs offers LGBTQ+ youth mentorship programs so youth can find their community, peers, and safe spaces earlier on while gaining a sense of empowerment to propel them into bright futures.

LGBTQ Resources for Addiction, Mental Health, & Rehab
Important LGBTQ Resources for Addiction and Mental Health.
L.A. County Based Resources
Mental Health Resources
SA
PROGRAM NAME
SERVICES PROVIDED
TARGET POPULATION
ADDRESS
WEBSITE / EMAIL
PHONE NUMBER
4
Alexis Project @ LAC+USC
Gender affirming treatment; Medical services; PrEP/PEP; Mental health
All ages
2010 Zonal Ave., OPD Building B
Los Angeles, CA 90033
alexisproject@dhs.lacounty.gov
323.409.3233
4
Trans Wellness Center
Mental health; Employment assistance; Medical linkage; Sexual health linkage; Housing linkage; Legal services; Youth development
Transgender and non-binary community members
3055 Wilshire Blvd., Suite 360
Los Angeles, CA 90010
mytranswellness.org
transwellness@lalgbtcenter.org
323.993.2900
4
Center for Transyouth Health and Development @ Children's Hospital Los Angeles
Gender affirming treatment; Primary care; PrEP/PEP; Mental health; Sexual + reproductive health; Legal services (name and gender marker change); Case management
Transgender and gender diverse children, adolescents, young adults, and their families
5000 W. Sunset Blvd.
Los Angeles, CA 90027
chla.org/the-center-transyouth-health-and-development
ctyhd@chla.usc.edu
323.361.3966
4
The Wall Las Memorias Project
Mental health (peer support groups, family/caregiver group); Sexual health services; PrEP/PEP linkage; Primary care linkage; Community engagement; Youth leadership development; Substance use prevention
Gay, bisexual, queer, and questioning men; Transgender and gender diverse community members; LGBTQI2-S youth; families/caregivers
800 W. Sixth St., Suite 750
Los Angeles, CA 900175619 Monte Vista St.
Los Angeles, CA 90042
thewalllasmemorias.org
info@twlmp.org
323.257.1056
4
APAIT
HIV testing; Housing (HOPWA); Mental health for people living with HIV; Case management
Multi-ethnic communities of LA and Orange counties who identify as LGBTQIA2-S, immigrants and refugees, at-risk for HIV/STIs, housing insecure, and with behavioral health lived experience
3055 Wilshire Blvd., Suite 300
Los Angeles, CA 90010
apaitonline.org
info@apaitonline.org
213.375.3830
8
LGBTQ Center Long Beach
Mental health; HIV and STD/STI testing; Gender affirming care linkage; Medical linkage; PrEP/PEP linkage; Legal services; Career counseling; Youth services; Older adult services
LGBTQIA2-S community members (all ages)
2017 East 4th St.
Long Beach, CA 90814
centerlb.org
info@centerlb.org
562.434.4455 ext. 228
2, 3, 4, 6, 7, 8
Bienestar
Primary care; HIV and Hepatitis C screening; STI/STD screening (East LA location only); PrEP/PEP education; Mental health; Substance use treatment (East LA, South LA, and SF Valley locations); Syringe exchange (East LA location only); Case management; Housing linkage; Support groups; Food bank; Community organizing + advocacy
LGBTQ+ and Latino populations
Bienestar has 6 locations: East LA, Hollywood, Long Beach, Pomona, San Fernando Valley, South LA
bienestar.org
info@bienestar.org
866.590.6411
4, 6, 8
APLA Health
Primary care (HIV-specific primary care at Baldwin Hills location only); Gender affirming treatment (hormone therapy, referrals for surgery); HIV and STI/STD screening; Hepatitis B/C screening; PrEP/PEP; Mental health; Substance use treatment (Baldwin Hills location); Insurance enrollment; Housing and case mangement support (for people living with HIV); Food bank; Community organizing + advocacy
LGBTQ+ and other underserved communities; people living with and affected by HIV
APLA Health has 6 locations: Baldwin Hills, West Hollywood, Koreatown, Long Beach
aplahealth.org
hello@apla.org
213.201.1600
2, 4, 5
Los Angeles LGBT Center
Gender affirming treatment, Medical health, Sexual health and prevention, Pharmacy, Mental health, Addiction recovery, Violence prevention & survivor support,  Homelessness and housing, Legal & Immigration, Employment services
LGBTQIA2-S community members (all ages)
1118 N. McCadden Pl.
Los Angeles, CA 90038
lalgbtcenter.org
323.993.7400
5
UCLA Gender Health Program
Primary care, Hormone therapy, Facial reconstruction, Chest/Top surgery, Genital reconstructive services/Bottom surgery, Gynecological care, Reproductive health and fertility, Voice therapy and voice surgery, behavioral health, Case management and care coordination, Referrals to specialty physicians
Transgender or gender diverse children, adolescents, and adults
Primary Care Clinic in Santa Monica, CA
uclahealth.org/gender-health                        genderhealth@mednet.ucla.edu
310.267.4334
All SA's
Kaiser Permanente So.Cal.
Gender-affirming surgery pathways, Hormone therapy, Gynecologic services, Fertility preservation, Mental health services (adult and youth), Primary care, Care management
Transgender and non-binary members (adult and youth)
Throughout Los Angeles County
thrive.kaiserpermanente.org/care-near-you/southern-california/transgender
Transgender Care Line 323.857.3818
6
In the Meantime Men's Group, Inc.
Community organizing and advocacy; HIV/STI testing; PrEP linkage; Peer support groups
Black men who are gay, same-gender loving, and bisexual
2146 W. Adams Blvd.
Los Angeles, CA 90018
inthemeantimemen.org  inthemeantimemen@aol.com

323.733.4868

818.441.1216 (testing hotline)

6
The AMAAD Institute (Arming Minorities Against Addiction and Disease)
Mental health; Community organizing and advocacy; HIV/STI testing; PrEP/PEP linkage; Peer support groups; Linkage and navigation; Youth/TAY services
Black LGBTQ+ community members and other LGBTQ+ communities of color
10221 S. Compton Ave., Suite 105
Los Angeles, CA 90002
amaad.org
323.569.1610
Housing Resources
SA
PROGRAM NAME
SERVICES PROVIDED
TARGET POPULATION
ADDRESS
WEBSITE / EMAIL
PHONE NUMBER
4
Trans Wellness Center
Mental health; Employment assistance; Medical linkage; Sexual health linkage; Housing linkage; Legal services; Youth development
Transgender and non-binary community members
3055 Wilshire Blvd., Suite 360
Los Angeles, CA 90010
mytranswellness.org transwellness@lalgbtcenter.org
323.993.2900
4
TransLatin@ Coalition
Community organizing + advocacy; Leadership development; Economic + workforce development; Housing; PrEP/PEP; Legal services; Case management
Trans, gender non-conforming, and intersex people in LA County; trans Latin@s who are immigrants and reside in the US
3055 Wilshire Blvd., Suite 350
Los Angeles, CA 90010
translatinacoalition.org hola@translatinacoalition.org
 
4
APAIT
HIV testing; Housing (HOPWA); Mental health for people living with HIV; Case management
Multi-ethnic communities of LA and Orange counties who identify as LGBTQIA2-S, immigrants and refugees, at-risk for HIV/STIs, housing insecure, and with behavioral health lived experience
3055 Wilshire Blvd., Suite 300
Los Angeles, CA 90010
apaitonline.org
info@apaitonline.org
213.375.3830
2
The Village Family Services
Mental health (including intensive and FSP programs); TAY drop-in center; Housing linkage; Support group for foster parents
Youth and TAY; culturally responsive services for Latinx communities; specialized services for LGBTQ+ youth and those experiencing homelessness
6746 Laurel Canyon Blvd.
North Hollywood, CA 91606
thevillagefs.org contact@thevillagefs.org
818.755.8786
2, 3, 4, 6, 7, 8
Bienestar
Primary care; HIV and Hepatitis C screening; STI/STD screening (East LA location only); PrEP/PEP education; Mental health; Substance use treatment (East LA, South LA, and SF Valley locations); Syringe exchange (East LA location only); Case management; Housing linkage; Support groups; Food bank; Community organizing + advocacy
LGBTQ+ and Latino populations
Bienestar has 6 locations: East LA, Hollywood, Long Beach, Pomona, San Fernando Valley, South LA
bienestar.org info@bienestar.org
866.590.6411
4, 6, 8
APLA Health
Primary care (HIV-specific primary care at Baldwin Hills location only); Gender affirming treatment (hormone therapy, referrals for surgery); HIV and STI/STD screening; Hepatitis B/C screening; PrEP/PEP; Mental health; Substance use treatment (Baldwin Hills location); Insurance enrollment; Housing and case mangement support (for people living with HIV); Food bank; Community organizing + advocacy
LGBTQ+ and other underserved communities; people living with and affected by HIV
APLA Health has 6 locations: Baldwin Hills, West Hollywood, Koreatown, Long Beach
aplahealth.org
hello@apla.org
213.201.1600
2, 4, 5
Los Angeles LGBT Center
Gender affirming treatment, Medical health, Sexual health and prevention, Pharmacy, Mental health, Addiction recovery, Violence prevention & survivor support,  Homelessness and housing, Legal & Immigration, Employment services
LGBTQIA2-S community members (all ages)
1118 N. McCadden Pl.
Los Angeles, CA 90038
lalgbtcenter.org
323.993.7400
Primary Care Resources
SA
PROGRAM NAME
SERVICES PROVIDED
TARGET POPULATION
ADDRESS
WEBSITE / EMAIL
PHONE NUMBER
4
Alexis Project @ LAC+USC
Gender affirming treatment; Primary care; PrEP/PEP; Mental health
All ages
2010 Zonal Ave., OPD Building B
Los Angeles, CA 90033
alexisproject@dhs.lacounty.gov
323.409.3233
4
Center for Transyouth Health and Development @ Children's Hospital Los Angeles
Gender affirming treatment; Primary care; PrEP/PEP; Mental health; Sexual + reproductive health; Legal services (name and gender marker change); Case management
Transgender and gender diverse children, adolescents, young adults, and their families
5000 W. Sunset Blvd.
Los Angeles, CA 90027
chla.org/the-center-transyouth-health-and-development
ctyhd@chla.usc.edu
323.361.3966
7
Bienestar
Primary care; HIV and STI/STD screening; Hepatitis C screening; PrEP/PEP education; Mental health; Substance use treatment; Syringe exchange; Case management; Housing linkage; Support groups; Food bank; Community organizing + advocacy
LGBTQ+ and Latino populations
5326 E. Beverly Blvd.
Los Angeles, CA 90022
bienestar.org info@bienestar.org
866.590.6411
4, 6, 8
APLA Health
Primary care (HIV-specific primary care at Baldwin Hills location only); Gender affirming treatment (hormone therapy, referrals for surgery); HIV and STI/STD screening; Hepatitis B/C screening; PrEP/PEP; Mental health; Substance use treatment (Baldwin Hills location); Insurance enrollment; Housing and case mangement support (for people living with HIV); Food bank; Community organizing + advocacy
LGBTQ+ and other underserved communities; people living with and affected by HIV
APLA Health has 6 locations: Baldwin Hills, West Hollywood, Koreatown, Long Beach
aplahealth.org
hello@apla.org
213.201.1600
2, 4, 5
Los Angeles LGBT Center
Gender affirming treatment, Medical health, Sexual health and prevention, Pharmacy, Mental health, Addiction recovery, Violence prevention & survivor support,  Homelessness and housing, Legal & Immigration, Employment services
LGBTQIA2-S community members (all ages)
1118 N. McCadden Pl.
Los Angeles, CA 90038
lalgbtcenter.org
323.993.7400
5
UCLA Gender Health Program
Primary care, Hormone therapy, Facial reconstruction, Chest/Top surgery, Genital reconstructive services/Bottom surgery, Gynecological care, Reproductive health and fertility, Voice therapy and voice surgery, behavioral health, Case management and care coordination, Referrals to specialty physicians
Transgender or gender diverse children, adolescents, and adults
Primary Care Clinic in Santa Monica, CA
uclahealth.org/gender-health genderhealth@mednet.ucla.edu
310.267.4334
All SA's
Kaiser Permanente So.Cal.
Gender-affirming surgery pathways, Hormone therapy, Gynecologic services, Fertility preservation, Mental health services (adult and youth), Primary care, Care management
Transgender and non-binary members (adult and youth)
Throughout Los Angeles County
https://thrive.kaiserpermanente.org/care-near-you/southern-california/transgender
Transgender Care Line 323.857.3818
Sexual / Reproductive Health Resources
SA
PROGRAM NAME
SERVICES PROVIDED
TARGET POPULATION
ADDRESS
WEBSITE / EMAIL
PHONE NUMBER
4
Alexis Project @ LAC+USC
Gender affirming treatment; Medical services; PrEP/PEP; Mental health
All ages
2010 Zonal Ave., OPD Building B
Los Angeles, CA 90033
alexisproject@dhs.lacounty.gov
323.409.3233
4
Trans Wellness Center
Mental health; Employment assistance; Medical linkage; Sexual health linkage; Housing linkage; Legal services; Youth development
Transgender and non-binary community members
3055 Wilshire Blvd., Suite 360
Los Angeles, CA 90010
mytranswellness.org transwellness@lalgbtcenter.org
323.993.2900
4
Center for Transyouth Health and Development @ Children's Hospital Los Angeles
Gender affirming treatment; Primary care; PrEP/PEP; Mental health; Sexual + reproductive health; Legal services (name and gender marker change); Case management
Transgender and gender diverse children, adolescents, young adults, and their families
5000 W. Sunset Blvd.
Los Angeles, CA 90027
chla.org/the-center-transyouth-health-and-development
ctyhd@chla.usc.edu
323.361.3966
4
The Wall Las Memorias Project
Mental health (peer support groups, family/caregiver group); Sexual health services; PrEP/PEP linkage; Primary care linkage; Community engagement; Youth leadership development; Substance use prevention
Gay, bisexual, queer, and questioning men; Transgender and gender diverse community members; LGBTQI2-S youth; families/caregivers
800 W. Sixth St., Suite 750
Los Angeles, CA 90017

5619 Monte Vista St.
Los Angeles, CA 90042

thewalllasmemorias.org
info@twlmp.org
323.257.1056
4
APAIT
HIV testing; Housing (HOPWA); Mental health for people living with HIV; Case management
Multi-ethnic communities of LA and Orange counties who identify as LGBTQIA2-S, immigrants and refugees, at-risk for HIV/STIs, housing insecure, and with behavioral health lived experience
3055 Wilshire Blvd., Suite 300
Los Angeles, CA 90010
apaitonline.org
info@apaitonline.org
213.375.3830
8
LGBTQ Center Long Beach
Mental health; HIV and STD/STI testing; Gender affirming care linkage; Medical linkage; PrEP/PEP linkage; Legal services; Career counseling; Youth services; Older adult services
LGBTQIA2-S community members (all ages)
2017 East 4th St.
Long Beach, CA 90814
centerlb.org
info@centerlb.org
For mental health intake: 562.434.4455 ext. 228 //
2, 3, 4, 6, 7, 8
Bienestar
Primary care; HIV and Hepatitis C screening; STI/STD screening (East LA location only); PrEP/PEP education; Mental health; Substance use treatment (East LA, South LA, and SF Valley locations); Syringe exchange (East LA location only); Case management; Housing linkage; Support groups; Food bank; Community organizing + advocacy
LGBTQ+ and Latino populations
Bienestar has 6 locations: East LA, Hollywood, Long Beach, Pomona, San Fernando Valley, South LA
bienestar.org
info@bienestar.org
866.590.6411
4, 6, 8
APLA Health
Primary care (HIV-specific primary care at Baldwin Hills location only); Gender affirming treatment (hormone therapy, referrals for surgery); HIV and STI/STD screening; Hepatitis B/C screening; PrEP/PEP; Mental health; Substance use treatment (Baldwin Hills location); Insurance enrollment; Housing and case mangement support (for people living with HIV); Food bank; Community organizing + advocacy
LGBTQ+ and other underserved communities; people living with and affected by HIV
APLA Health has 6 locations: Baldwin Hills, West Hollywood, Koreatown, Long Beach
aplahealth.org
hello@apla.org
213.201.1600
2, 4, 5
Los Angeles LGBT Center
Gender affirming treatment, Medical health, Sexual health and prevention, Pharmacy, Mental health, Addiction recovery, Violence prevention & survivor support,  Homelessness and housing, Legal & Immigration, Employment services
LGBTQIA2-S community members (all ages)
1118 N. McCadden Pl.
Los Angeles, CA 90038
lalgbtcenter.org
323.993.7400
5
UCLA Gender Health Program
Primary care, Hormone therapy, Facial reconstruction, Chest/Top surgery, Genital reconstructive services/Bottom surgery, Gynecological care, Reproductive health and fertility, Voice therapy and voice surgery, behavioral health, Case management and care coordination, Referrals to specialty physicians
Transgender or gender diverse children, adolescents, and adults
Primary Care Clinic in Santa Monica, CA
uclahealth.org/gender-health
genderhealth@mednet.ucla.edu
310.267.4334
All SA's
Kaiser Permanente So.Cal.
Gender-affirming surgery pathways, Hormone therapy, Gynecologic services, Fertility preservation, Mental health services (adult and youth), Primary care, Care management
Transgender and non-binary members (adult and youth)
Throughout Los Angeles County
thrive.kaiserpermanente.org/care-near-you/southern-california/transgender
Transgender Care Line 323.857.3818
6
In the Meantime Men's Group, Inc.
Community organizing and advocacy; HIV/STI testing; PrEP linkage; Peer support groups
Black men who are gay, same-gender loving, and bisexual
2146 W. Adams Blvd.
Los Angeles, CA 90018
inthemeantimemen.org inthemeantimemen@aol.com

323.733.4868

818.441.1216 (testing hotline)

6
The AMAAD Institute (Arming Minorities Against Addiction and Disease)
Mental health; Community organizing and advocacy; HIV/STI testing; PrEP/PEP linkage; Peer support groups; Linkage and navigation; Youth/TAY services
Black LGBTQ+ community members and other LGBTQ+ communities of color
10221 S. Compton Ave., Suite 105
Los Angeles, CA 90002
amaad.org
323.569.1610
Gender Affirming Treatment Resources
SA
PROGRAM NAME
SERVICES PROVIDED
TARGET POPULATION
ADDRESS
WEBSITE / EMAIL
PHONE NUMBER
4
Alexis Project @ LAC+USC
Gender affirming treatment; Primary care; PrEP/PEP; Mental health
LGBTQ+ folks; All ages
2010 Zonal Ave., OPD Building B
Los Angeles, CA 90033
alexisproject@dhs.lacounty.gov
323.409.3233
4
Center for Transyouth Health and Development @ Children's Hospital Los Angeles
Gender affirming treatment; Primary care; PrEP/PEP; Mental health; Sexual + reproductive health; Legal services (name and gender marker change); Case management
Transgender and gender diverse children, adolescents, young adults, and their families
5000 W. Sunset Blvd.
Los Angeles, CA 90027
chla.org/the-center-transyouth-health-and-development
ctyhd@chla.usc.edu
323.361.3966
8
LGBTQ Center Long Beach
Mental health; HIV and STD/STI testing; Gender affirming services and linkage; Medical linkage; PrEP/PEP linkage; Legal services; Career counseling; Youth services; Older adult services
LGBTQIA2-S community members (all ages)
2017 East 4th St.
Long Beach, CA 90814
centerlb.org
info@centerlb.org
For mental health intake: 562.434.4455 ext. 228 
4, 6, 8
APLA Health
Primary care (HIV-specific primary care at Baldwin Hills location only); Gender affirming treatment (hormone therapy, referrals for surgery); HIV and STI/STD screening; Hepatitis B/C screening; PrEP/PEP; Mental health; Substance use treatment (Baldwin Hills location); Insurance enrollment; Housing and case mangement support (for people living with HIV); Food bank; Community organizing + advocacy
LGBTQ+ and other underserved communities; people living with and affected by HIV
APLA Health has 6 locations: Baldwin Hills, West Hollywood, Koreatown, Long Beach
aplahealth.org
hello@apla.org
213.201.1600
2, 4, 5
Los Angeles LGBT Center
Gender affirming treatment, Medical health, Sexual health and prevention, Pharmacy, Mental health, Addiction recovery, Violence prevention & survivor support,  Homelessness and housing, Legal & Immigration, Employment services
LGBTQIA2-S community members (all ages)
1118 N. McCadden Pl.,
Los Angeles, CA 90038
lalgbtcenter.org
323.993.7400
5
UCLA Gender Health Program
Primary care, Hormone therapy, Facial reconstruction, Chest/Top surgery, Genital reconstructive services/Bottom surgery, Gynecological care, Reproductive health and fertility, Voice therapy and voice surgery, behavioral health, Case management and care coordination, Referrals to specialty physicians
Transgender or gender diverse children, adolescents, and adults
Primary Care Clinic in Santa Monica, CA
310.267.4334
All SA's
Kaiser Permanente So.Cal.
Gender-affirming surgery pathways, Hormone therapy, Gynecologic services, Fertility preservation, Mental health services (adult and youth), Primary care, Care management
Transgender and non-binary members (adult and youth)
Throughout Los Angeles County
thrive.kaiserpermanente.org/care-near-you/southern-california/transgender
Transgender Care Line 323.857.3818
PrEP & PEP Resources
SA
PROGRAM NAME
SERVICES PROVIDED
TARGET POPULATION
ADDRESS
WEBSITE / EMAIL
PHONE NUMBER
4
Alexis Project @ LAC+USC
Gender affirming treatment; Medical services; PrEP/PEP; Mental health
All ages
2010 Zonal Ave., OPD Building B
Los Angeles, CA 90033
alexisproject@dhs.lacounty.gov
323.409.3233
4
Trans Wellness Center
Mental health; Employment assistance; Medical linkage; Sexual health linkage; Housing linkage; Legal services; Youth development
Transgender and non-binary community members
3055 Wilshire Blvd., Suite 360
Los Angeles, CA 90010
mytranswellness.org transwellness@lalgbtcenter.org
323.993.2900
4
Center for Transyouth Health and Development @ Children's Hospital Los Angeles
Gender affirming treatment; Primary care; PrEP/PEP; Mental health; Sexual + reproductive health; Legal services (name and gender marker change); Case management
Transgender and gender diverse children, adolescents, young adults, and their families
5000 W. Sunset Blvd.
Los Angeles, CA 90027
chla.org/the-center-transyouth-health-and-development
ctyhd@chla.usc.edu
323.361.3966
4
The Wall Las Memorias Project
Mental health (peer support groups, family/caregiver group); Sexual health services; PrEP/PEP linkage; Primary care linkage; Community engagement; Youth leadership development; Substance use prevention
Gay, bisexual, queer, and questioning men; Transgender and gender diverse community members; LGBTQI2-S youth; families/caregivers

800 W. Sixth St., Suite 750
Los Angeles, CA 90017

5619 Monte Vista St.
Los Angeles, CA 90042

thewalllasmemorias.org
info@twlmp.org
323.257.1056
4
TransLatin@ Coalition
Community organizing + advocacy; Leadership development; Economic + workforce development; Housing; PrEP/PEP; Legal services; Case management
Trans, gender non-conforming, and intersex people in LA County; trans Latin@s who are immigrants and reside in the US
3055 Wilshire Blvd., Suite 350
Los Angeles, CA 90010
translatinacoalition.org
hola@translatinacoalition.org
 
8
LGBTQ Center Long Beach
Mental health; HIV and STD/STI testing; Gender affirming care linkage; Medical linkage; PrEP/PEP linkage; Legal services; Career counseling; Youth services; Older adult services
LGBTQIA2-S community members (all ages)
2017 East 4th St.
Long Beach, CA 90814
centerlb.org
info@centerlb.org
For mental health intake: 562.434.4455 ext. 228
2, 3, 4, 6, 7, 8
Bienestar
Primary care; HIV and Hepatitis C screening; STI/STD screening (East LA location only); PrEP/PEP education; Mental health; Substance use treatment (East LA, South LA, and SF Valley locations); Syringe exchange (East LA location only); Case management; Housing linkage; Support groups; Food bank; Community organizing + advocacy
LGBTQ+ and Latino populations
Bienestar has 6 locations: East LA, Hollywood, Long Beach, Pomona, San Fernando Valley, South LA
bienestar.org
info@bienestar.org
866.590.6411
4, 6, 8
APLA Health
Primary care (HIV-specific primary care at Baldwin Hills location only); Gender affirming treatment (hormone therapy, referrals for surgery); HIV and STI/STD screening; Hepatitis B/C screening; PrEP/PEP; Mental health; Substance use treatment (Baldwin Hills location); Insurance enrollment; Housing and case mangement support (for people living with HIV); Food bank; Community organizing + advocacy
LGBTQ+ and other underserved communities; people living with and affected by HIV
APLA Health has 6 locations: Baldwin Hills, West Hollywood, Koreatown, Long Beach
aplahealth.org
hello@apla.org
213.201.1600
2, 4, 5
Los Angeles LGBT Center
Gender affirming treatment, Medical health, Sexual health and prevention, Pharmacy, Mental health, Addiction recovery, Violence prevention & survivor support,  Homelessness and housing, Legal & Immigration, Employment services
LGBTQIA2-S community members (all ages)
1118 N. McCadden Pl.
Los Angeles, CA 90038
lalgbtcenter.org
323.993.7400
5
UCLA Gender Health Program
Primary care, Hormone therapy, Facial reconstruction, Chest/Top surgery, Genital reconstructive services/Bottom surgery, Gynecological care, Reproductive health and fertility, Voice therapy and voice surgery, behavioral health, Case management and care coordination, Referrals to specialty physicians
Transgender or gender diverse children, adolescents, and adults
Primary Care Clinic in Santa Monica, CA
uclahealth.org/gender-health
genderhealth@mednet.ucla.edu
310.267.4334
6
In the Meantime Men's Group, Inc.
Community organizing and advocacy; HIV/STI testing; PrEP linkage; Peer support groups
Black men who are gay, same-gender loving, and bisexual
2146 W. Adams Blvd.
Los Angeles, CA 90018
inthemeantimemen.org inthemeantimemen@aol.com
323.733.4868 / 818.441.1216 (testing hotline)
6
The AMAAD Institute (Arming Minorities Against Addiction and Disease)
Mental health; Community organizing and advocacy; HIV/STI testing; PrEP/PEP linkage; Peer support groups; Linkage and navigation; Youth/TAY services
Black LGBTQ+ community members and other LGBTQ+ communities of color
10221 S. Compton Ave., Suite 105
Los Angeles, CA 90002
amaad.org
323.569.1610