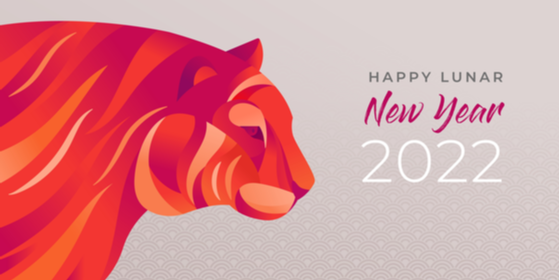 The holidays is about luck, health, and reuniting with family.
When people talk about the "holiday season" in the U.S., they typically refer to that period between Thanksgiving dinner and New Year's Day. But shortly after that, another massive holiday brings friends and family together in several Asian countries, with concurrent parties that carry on the traditions stateside. The Lunar New Year, most commonly associated with the Chinese New Year or Spring Festival, typically falls between mid-January and mid-February annually. Lunar New Year 2022 is on February 1, and in terms of the Chinese zodiac animal, it's the Year of the Tiger.
It's called the Lunar New Year because it marks the first new moon of the lunisolar calendars traditional to many east Asian countries including China, South Korea, and Vietnam, which are regulated by the cycles of the moon and sun. As the New York Times explains, "a solar year-the time it takes Earth to orbit the sun-lasts around 365 days, while a lunar year, or 12 full cycles of the Moon, is roughly 354 days." As with the Jewish lunisolar calendar, "a month is still defined by the moon, but an extra month is added periodically to stay close to the solar year." This is why the new year falls on a different day within that month-long window each year.
Korean Lunar New Year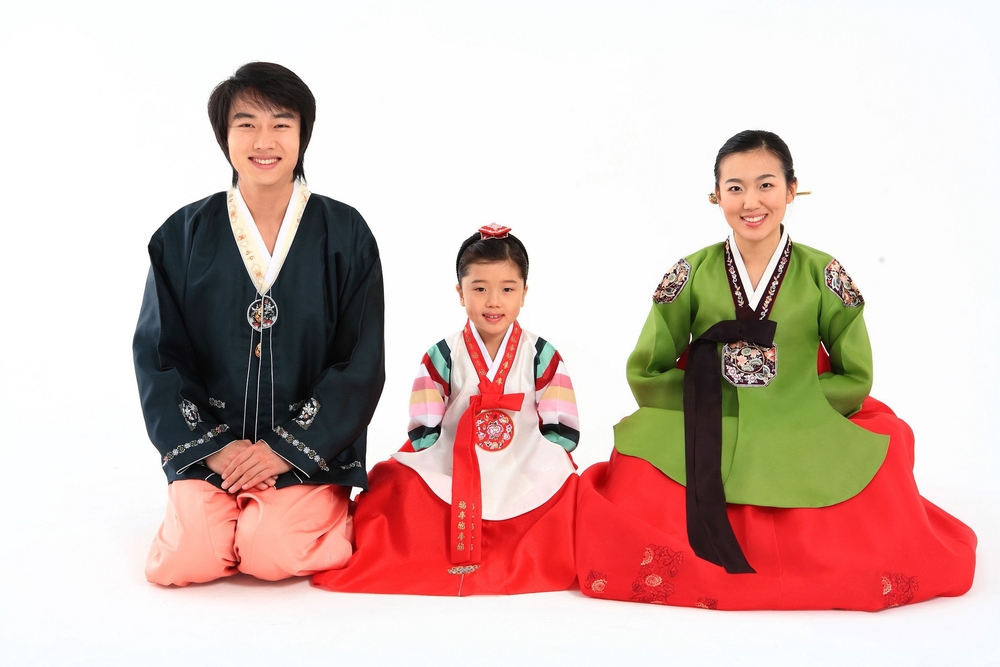 We know the New Year is a time of transition and celebration for everyone. When we turn our attention to other countries like South Korea, we find many interesting traditions to celebrate the New Year. The Korean New Year known as Seollal, is the most important day of the traditional Korean holidays. The Korean New Year lasts three days, starting on February 12, 2021 this year. In South Korea, the festival centers on family reunions, food and placating the ancestors. During the New Year festivities, it is common for adults and children to wear the colorful traditional costume, the Hanbok. Traditional women's hanbok consists of a blouse shirt or jacket and chima, a wraparound skirt, which is usually worn full. Men's hanbok consists of a shirt and baji which means pants in Korean. Another New Year tradition is the ringing of the historic Boshingak Bell. The bell was originally constructed in 1396 and is now only rung on Lunar New Year.2
The Soup that Takes One Year to Eat
Tteokguk is a traditional Korean food that is customarily eaten for the New Year. The dish is a soup with thinly sliced rice cakes. According to tradition, the Korean New Year is similar to a birthday for Koreans, and having Tteokguk is part of the birthday celebration. Once you finish eating your Tteokguk, you are one year older. But, don't worry! You will not get older officially when you eat Tteokguk. It is just a symbol of celebration and blessing to each other during the New Year.
Korean New Year Traditions and Customs
Since the Korean focus is on starting the New Year by reconnecting with family and ancestors, the most ceremonial ritual on New Year's Day is Seh bae (a deep bow to their elders.) Traditionally families would begin by performing Seh bae to deceased ancestors and making food and drink offerings to the spirits of ancestors, which is called as Charae.
Depending on the family, the seh bae time may just start with grown-ups and children bowing and paying respect to their elders, beginning with deep bows to the oldest living generation. Children receive gifts of money and words of wisdom for the New Year, and everyone wishes each other blessings for the New Year. They say "Saehae bok manee badesaeyo" when they bow which means "Happy New Year!"
Chinese New Year* (My Cantonese Traditions) (*also known as Spring Festival – 春節)

By Vanessa Elkharbotly, Community Member

The preparations for our Chinese New Year celebration are among vivid memories of my childhood. My family would start getting busy one to two weeks beforehand. Getting the home ready was a big to-do, adding red colored decorations and flowers such as yellow Chrysanthemums or golden mums or orchids throughout the house to create a happy atmosphere. There would be purchases of large potted plants such as cherry blossom and kumquat to attract good fortune and prosperity to the home. I recall my grandparents also taking special care of their shrines, cleaning it up and making them nice in preparation for the most important holiday of the year.
In honoring those who passed, foods were presented on the table in front of the shrine. I still remember visiting my grandparents' house and teaming up with my brother and cousins to make several trips to the table to sneak out food while adults chatted away. New clothes were also on the list and my mother would go to the fabric store to pick up materials for my auntie to sew new outfits for us. My mom would give in to a big labor of love, cooking massive amounts of new year cakes to give away to our relatives, friends, and neighbors. Besides nien-gao, dried shiitake mushrooms, dried oysters and/ or dried shrimps are also given as gifts to relatives as symbols of prosperity, good fortune, and happiness for the new year.
The big celebration came on New Year's Eve, my entire family will get together to have a reunion family dinner (and we would all sit around the table, from the oldest to the youngest). Our dinner table displayed nine different dishes. Among them, a steamed whole fish with head and tail for abundance from beginning to end of the year; a soup containing shiitake mushrooms, Terrestrial cyanobacterium (fat choy) seaweed, and oyster for wealth and prosperity; a shrimp dish for happiness; a chicken dish garnished with lettuce at the bottom for good planning and wealth; a vegetable dish with abalone and dried tofu sheet for life full of wealth; and seafood noodles for longevity and good-life. There are also different kinds of desserts for wishing sweetness for the new year.
On New Year's Day, many families welcome this special holiday with firecrackers, and the Chinese community such as in Chinatown, celebrates with parades and dragon dances believed to ward off the evil spirits. Children and unmarried relatives receive red envelope containing "lucky money." Married couples would also honor their parents by giving them red envelopes for good luck. For a period of up to two weeks from New Year's Day, we would take turns visiting relatives and friends for the new year to express our love and friendship manifested in different types of sweet treats such as pomelo, oranges, mangoes, candy, Chinese rice cakes, cookies, or chocolate. Tradition was to always bring something sweet to the hosts and they also in return would give us something sweet to take home.
The following food names mentioned above are cooked and prepared during the holidays symbolizing good fortunes all year round:
鮑魚 (Abalone) – guaranteed abundance
雞 (Chicken) – good planning
魚 (Fish) – plentiful; surplus, abundance
生菜 (Lettuce) — richness
柑桔 (Mandarin/Oranges) – protection/safety; abundance and happiness
 年糕 (New Year Cake) – increasing prosperity
麵 (Noodle) – longevity
蠔 (Oyster) – good fortune
碌柚 (Pomelo) – harmonious, togetherness
海鮮 (Seafood) – prosperity and good wishes
菇 (Shiitake Mushroom) – wealth and prosperity
蝦 (Shrimp) – laughter and happiness
髮菜 (Terrestrial Cyanobacterium) – type of seaweed; when dried, the product has the appearance of black hair wealth and prosperity.
腐竹 (Tofu stick) – richness
西瓜 (Watermelon) – seeds and candied fruits (lotus seeds, lotus root slices, coconut shreds, winter melon chunks) – full of blessings in fertility, richness, wellness, goodness.
May the New Year bring you all blessing, health, happiness and prosperity; Happy New Year!!!