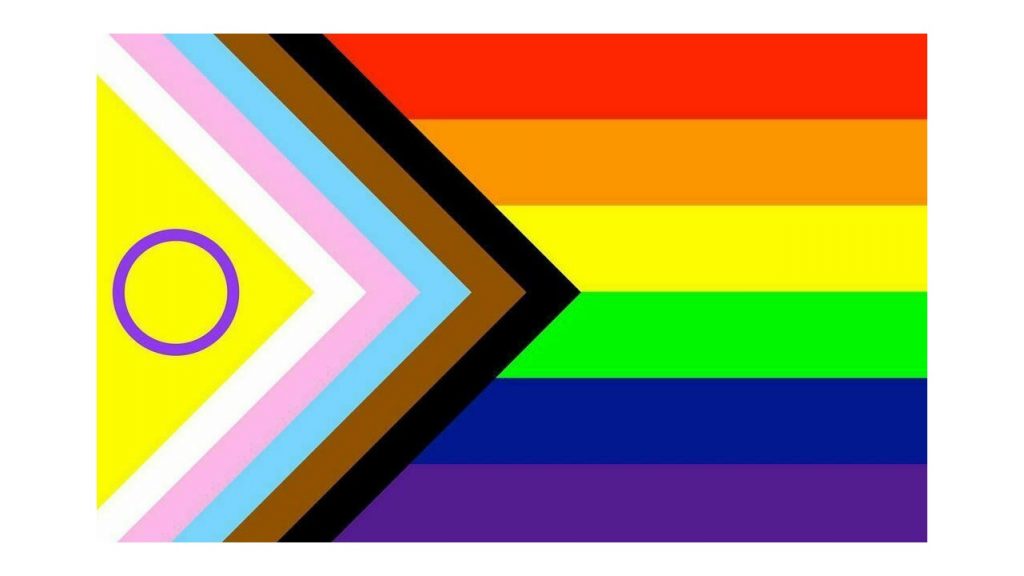 June is Pride Month! You may have seen different kinds of Pride flags at community events and parades, outside people's homes, on crosswalks, and even raised over Capitol buildings throughout the country. Flags are sociopolitical symbols of community membership, unity, and visibility. Over the years, the Pride flag has evolved to promote greater inclusion and recognize the many communities that celebrate Pride. Read on to find out about the history behind this imagery.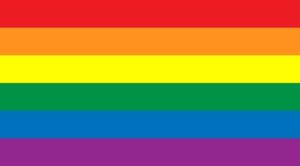 You may be familiar with the rainbow-striped Pride flag. In recent years, this flag has been updated and expanded to represent the intersectional diversity of lesbian, gay, bisexual, transgender, queer, intersex, asexual, and Two-Spirit (LGBTQIA2-S) communities.
Before rainbow-striped Pride flag, many LGBTQIA2-S communities used a pink triangle as visual representation. This was adapted from badge that gay prisoners were forced to wear in Nazi concentration camps. Perhaps the most well-known usage of the pink triangle symbol was by ACT-UP during the height of the HIV/AIDS epidemic. Other symbols used by LGBTQIA2-S groups include green carnations, purple hand prints, Greek symbol lambda, blue feathers, and ace playing cards.
In the late 1970s, Harvey Milk – a member of the San Francisco Board of Supervisors and the first openly gay man elected to public office – asked his friend Gilbert Baker to design a symbol to represent (what was then referred to as) the gay community. Baker collaborated with his friend Lynn Segerblom (also known as Faerie Argyle Rainbow) to design the rainbow-striped flag with eight colors.
Baker and Segerblom's flag debuted at the Gay Freedom Day Parade in SF in 1978. Each of the original eight colors had their own unique symbolism. Hot pink: sex; Red: life; Orange: healing; Yellow: sunlight; Green: nature; Turquoise: magic and art; Indigo: serenity; and Violet: spirit. The original flag's hot pink and turquoise stripes were soon removed because of difficulty manufacturing and/or dying the fabric, resulting in the six-color rainbow flag we are familiar with today.
Many groups within the LGBTQIA2-S community have their own Pride flags. There are specific flags celebrating the identities of transgender, bisexual, lesbian, pansexual, asexual, and other communities. Still, the rainbow-striped flag has historically been the most used and recognized symbol representing Pride for the LGBTQIA2-S community overall.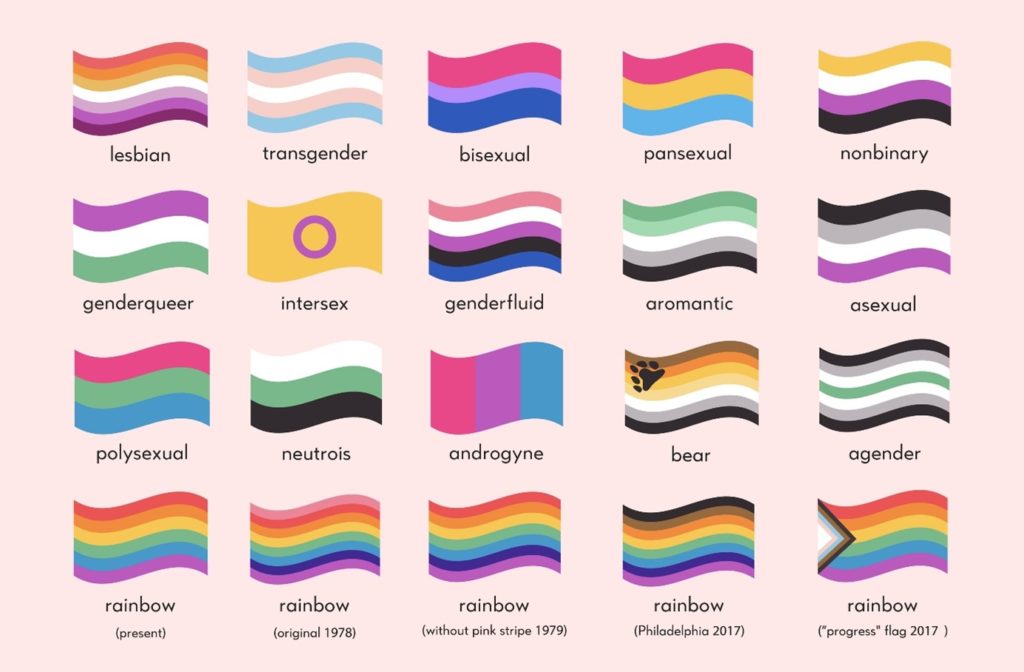 In 2017, the Philadelphia Office of LGBT Affairs released the Philadelphia Pride flag, which added black and brown stripes to the rainbow Pride flag to recognize and uplift people of color in LGBTQIA2-S communities. This was in response to a longstanding history of discrimination and exclusion toward Black, Indigenous, and other People of Color (BIPOC) within predominantly white LGBTQIA+ spaces.
In 2018, Daniel Quasar, an artist based in Portland, OR, designed the Progress Pride Flag. This flag incorporated the black and brown stripes of the Philadelphia Pride flag in addition to pink, white, and blue stripes in reference to the Trans Pride flag. The Progress Pride Flag has been celebrated by many in the LGBTQIA2-S community for its inclusivity. Quasar's approach to representing multiple historically marginalized groups within LGBTQIA2-S communities is especially important given the role of transgender and gender diverse people of color in 1969's Stonewall Uprising, which we commemorate each year during Pride Month.
In 2021, Valentino Vecchietti designed an intersex-inclusive Pride flag, which includes a purple circle over a yellow triangle as a reference to the Intersex pride flag that was created in 2013 by Morgan Carpenter. Purple and yellow are used as intentional contrasts to blue and pink, which are typically thought of as gendered colors. Like BIPOC and transgender communities, intersex people have largely been underrepresented – or outright ignored – within broader LGBTQIA2-S movements.
This year and in the future, we will continue to uplift and celebrate the many communities that give us Pride as LGBTQIA2-S people!
(Sources: them.us; The Atlantic)