By Alex Elliot, Psychiatric Social Worker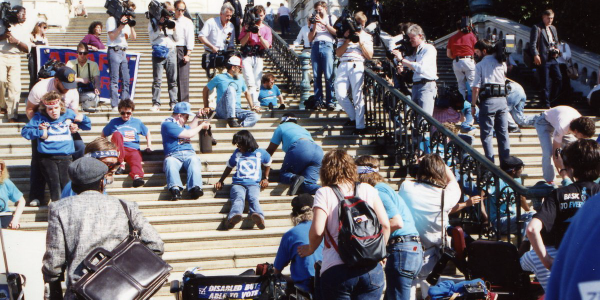 There are many significant cultural moments in March for people with disabilities. I want to highlight one event that had a major impact on many people with disabilities that took place on March 12th, 1990.
I was born without my right forearm or an "ongoing health condition: dysplasia of right arm" according to my health records. When I was a kid there was no internet, I never met anybody else with the same disability that I had. I was only aware of one other person on earth born without a hand: Major league baseball starting pitcher Jim Abbott of the California Angels.
I am lucky to have grown up as part of the "ADA generation". For almost all my life the Americans with Disabilities Act (ADA) has been a part of federal law. The ADA has played a critical role in supporting programs and services throughout my journey navigating life with a disability. The Disabled Students Program at UC Berkeley provided assistive technologies to support my journey through college. When I started at LACDMH, I was a Master's in Social Work student at Cal State University, Long Beach enrolled in the Disabled Students Services program and the Vocational Rehabilitation program within the Department of Rehabilitation.
Without the actions that took place on March 12th, 1990 my life could have been a lot different.  The "Capitol Crawl" protest for disability rights on March 12, 1990, was a critical event leading to the passage of the ADA.
After months of inaction by Congress; "More than 1,000 protesters came to Washington on that day to urge Congress to approve the law. Calling for immediate action, they chanted "What do we want?" "ADA!" "When do we want it?" "NOW!"…

Then, to symbolize the barriers confronting disabled people, more than 60 activists abandoned their crutches, wheelchairs, powerchairs, and other mobility-assistance devices and began crawling up the 83 stone steps that lead to the Capitol." (Source: ShareAmerica)
Within a few months of the Capitol Crawl, Congress passed the ADA and it was signed into law.
While the passage of the ADA 32 years ago marked a monumental shift in improving the civil rights of people with disabilities; the COVID-19 pandemic has highlighted the need to continue to work on making physical and digital spaces more inclusive for people with disabilities.
I encourage you to check out the following resources to learn more about the Disability Rights movement and improving the accessibility of digital content.
To learn more about resources to support people with disabilities, check out the Access For All Underserved Cultural Communities (UsCC) Resource Guide.
Microsoft Disability Answer Desk
If you have a disability or have questions related to accessibility, please contact the Microsoft Disability Answer Desk for technical assistance. The Disability Answer Desk support team is trained in using many popular assistive technologies and can offer assistance in English, Spanish, French, and American Sign Language.
Microsoft Office Accessibility Center – Resources for people with disabilities
On this page, find resources for people with disabilities and find out how to make your content accessible for all.
Crip Camp: A Disability Revolution Movie 
On the heels of Woodstock, a group of teen campers are inspired to join the fight for disability civil rights. This spirited look at grassroots activism is executive produced by President Barack Obama and Michelle Obama.
Check out the Diversity and Multicultural Calendar to learn about more cultural events in March.