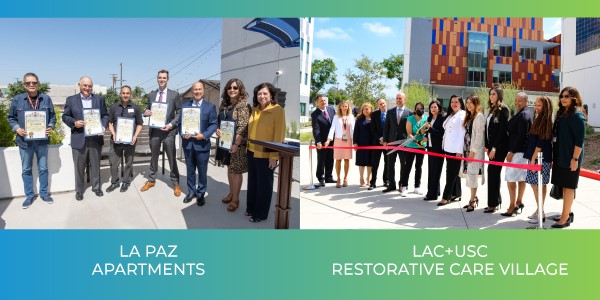 LACDMH recently participated in two grand opening ceremonies to provide services and support for individuals experiencing mental health challenges.
La Paz Apartments in the East Los Angeles community opened its doors on June 30. The grand opening brought out LACDMH leadership and staff along with Supervisor Hilda Solis, Meta Housing Corporation, Western Community Housing, and LifeSTEPs. This affordable housing development features 42 apartment units, on-site amenities, community spaces, and supportive programs designed to help individuals and families with mental health challenges who are experiencing or at risk of homelessness.
The grand opening and ribbon-cutting ceremony for the LAC+USC Restorative Care Village (RCV) took place on July 6. LACDMH joined State Treasurer Fiona Ma, Supervisor Solis, Department of Health Services, Department of Public Works, and LAC+USC Medical Center for the special event, which celebrated an innovative space that provides a full continuum of clinical and supportive services in a central location to help clients heal, recover, and reintegrate into their communities.
Additionally, the RCV will support a smooth transition between different care settings, including psychiatric emergency departments, inpatient units, mental health urgent care centers, residential treatment programs, and community mental health clinics. This allows clients to receive the appropriate level of care to address their needs and support their well-being at all times.
LACDMH is glad to be a part of both of these opening ceremonies, and we thank our ongoing partners and collaborators for making these projects – which will help numerous individuals and families throughout L.A. County – a reality.