Create a seamless crisis response and resolution network that helps individuals to stay in community.
A robust and well-coordinated crisis response network is needed to connect with and safely triage individuals with serious mental illness who are at risk, or in the process, of deteriorating and falling out of community. This network must operate as a coherent and functionally contiguous community "guardrail" that prevents individuals of all ages from having any number of adverse outcomes such as illness-related aggression toward self or others, becoming homeless, being removed from their family or entering the criminal justice system.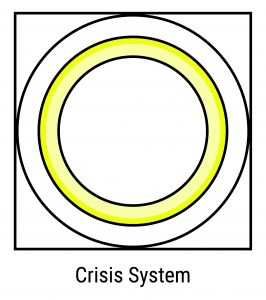 We must reinforce this guardrail, which includes numerous elements such as our emergency outreach and triage division working in collaboration with a bevy of first responders from County, City and other entities, various call centers and behavioral health urgent care centers as well as emergency department and residential services for crises. Aside from needing a broader workforce trained to de-escalate crisis situations and help individuals stabilize, mitigating their departure from community (Strategy 2.1), we need a massive expansion of acute, subacute and residential facilities to provide environments that can be used for intensive care episodes to resolve crises and provide connection back to community (Strategy 2.2). Despite the best efforts of crisis responders and the inpatient and residential treatment network, there are some individuals who continue to experience intensive needs over a longer period of time, resulting in frequent hospitalization and intensive care. For them, we are building a premier program of co-located care, a network of Restorative Care Villages across LA County campuses that will be designed to deliver a treatment-intensive continuum of care and stop at nothing in providing these individuals with the best possible chance of recovery (Strategy 2.3).
Real-Time Crisis Response (Strategy 2.1)
Develop capacity to safely and respectfully resolve mental health crises around the clock in every community.
Build a real-time, robust, well-coordinated, recovery-oriented and client- and family-centered crisis response network

Integrate high-quality crisis response services into every community and staff them with well-trained, culturally competent and caring first responders who work to resolve crises safely, for both youth and adults, and make every attempt to avoid the need for hospitalization

Develop a seamless network of relationships among all crisis care providers

Include assertive community treatment (Full Service Partnership) teams, call centers, mobile crisis response teams, law enforcement first responders, urgent care centers, crisis residential facilities, emergency departments and hospitals in a network as one unified system with shared goals, technology and information to provide the best possible care for those in crisis
Facility-Based Intensive Care (Strategy 2.2)
Build a right-sized, efficient and effective network of facility-based, intensive mental health services.
Right-size the network of acute, subacute and residential treatment services

Create a network that meets the needs of all communities, age groups (e.g., children and youth) and special populations and that recognizes cultural backgrounds

Actively manage client care throughout the facility-based intensive care network

Ensure clients are receiving the right care at the right time and are progressing positively through care

Facilitate live hand-offs to outpatient care and supportive housing

Sustain individuals in communities and minimize the risk of readmission, homelessness and justice involvement through real-person interaction and active transitions to sustain individuals in community care

Explore opportunities to create a Youth Crisis Residential Program for children and adolescents

Help decompress emergency rooms and psychiatric hospital beds serving youth
A Restorative Care Network (Strategy 2.3)
Create a premier program of integrated services across the treatment continuum for individuals with chronic intensive needs.
Develop restorative care villages, providing a culturally competent continuum of services on a single campus

For individuals with chronic intensive needs, utilize this mode to provide:

A full range of housing options, including interim and permanent supportive housing;
All levels of care, including emergency, acute inpatient, subacute, residential and outpatient care, with easy movement between them;
Coordinated mental health, physical health and substance use care (including detox);
Linkages to care facilities that provide intensive care specifically for justice-involved individuals; and
Resources to support the social determinants of health

For children and youth include educational and developmental services which are integral to their wellbeing