Provide for the basic human needs required to support personal recovery and community reintegration.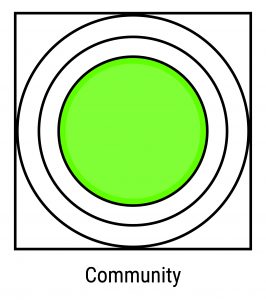 In collaboration with other County departments, agencies and a multitude of community partners, we must address the social determinants of health for individuals living with serious mental illness, including children and youth living with a serious emotional disturbance. The basic social determinants include access to affordable and safe community housing, aka "place" (Strategy 1B.1); support from kin (including peers), family, friends, respite care providers and community members at large, aka "people" (Strategy 1B.2); and opportunities to take on meaningful community roles, aka "purpose," such as those provided through employment, education and other developmentally appropriate activities, such as play (Strategy 1B.3). When met, such efforts lay a solid foundation for recovery and wellbeing.
Housing – "Place" (Strategy 1B.1)
Ensure safe and secure places to live and rest.
Embrace a "housing first" approach

Provide access to housing with low barriers to entry and low demands for maintaining residency, including for transition-age youth and families with children who face mental health challenges

Expand interim supportive housing and related communities

Increase options for safe, clean, organized and coordinated housing with connections to supportive social services to help transition individuals experiencing homelessness

Invest in a higher quantity and quality of permanent supportive housing

Increase the number of mixed, tenant-based and board-and-care units in all communities, and ensure that all housing options include child friendly amenities

Evaluate the service continuum to ensure the appropriate housing supports for crossover youth from the Departments of Children and Family Services and Probation are embedded in programs

Pay particular attention to programs serving youth transitioning from other placements into more independent living settings
Kin – "People" (Strategy 1B.2)
Support close relationships with people including family, friends, respite care providers and/or kin (including paid peers) and facilitate socialization.
Leverage peers as agents of kinship and support

Provide social support through a "buddy" or an advocate, including parent advocates, a key factor for stability

Support and expand accessible social environments

Give individuals with mental illness opportunities to engage and build meaningful relationships with others in their community

Invest in family engagement and reunification efforts, and maintain family relationships

Show families how they can effectively support their loved ones and help them flourish

Partner with the Departments of Children and Family Services and Probation in their efforts to recruit, train and retain resource (foster) parents that house crossover youth
Occupation – "Purpose" (Strategy 1B.3)
Offer, and promote, a range of opportunities for purposeful participation in the community.
Expand education, training and work opportunities

Increase staffing for peers to help support individuals as they transition to employment

Increase opportunities for individuals to engage in civic or volunteer efforts

Pursue meaningful roles for individuals in their communities while helping provide social connections

Help individuals to develop and pursue hobbies and interests

Integrate individuals into communities through engaging activities
Help promote developmentally appropriate educational, social and recreational activities for infants, children and transition age youth

Support systems-impacted youth to remain and succeed in school
Learn more about Community goals 1A (Prevention Services) & 1C (Outpatient Care)
Back to LACDMH Strategic Plan