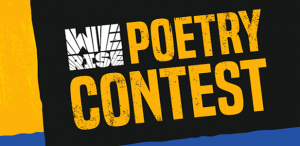 In observance of Mental Health Awareness Month this May, the Los Angeles County Department of Mental Health is sponsoring the
WE RISE Poetry Contest
.
We are seeking creative, original poems that address mental health and mental wellbeing experienced by the poet or someone close to them, as well as poems on related topics. Entries are accepted in 3 age categories: youth (up to age 14), young adults (ages 14-24) and adults (over age 24).
Entries will be judged by a panel of poets and peers, and they will be evaluated on the poem's message, art and craft. Prizes and certificates will be awarded to the top poems of each age group, and the winners will be invited to an upcoming WE RISE reception in Downtown Los Angeles in May 2019.
Contest Guidelines
Poems should express the experience of mental wellbeing, living with mental illness, supporting a loved one with mental illness or a related topic
Up to 3 poems may be submitted per person
Each entry should be 400 words or fewer
Entries may be typed or legibly handwritten
Submission Details
All poem entries will need to include:

Name
Age
Phone number
Mailing Address
Phone number and/or email address

Entries may be submitted by email to pio@dmh.lacounty.gov or by direct mail to:

Los Angeles County Department of Mental Health
RE: Mental Health Month Poetry Contest
550 S. Vermont Ave, 12th Floor Executive Suite
Los Angeles, CA 90020

Poems must be submitted or postmarked by May 1, 2019 to be considered for this contest
Entries will be reviewed with respect to privacy, and winning entrants may ask that their work be posted anonymously
For additional details about the contest, please view/download the contest flyer.
WE RISE is part of a campaign of transform the mental health care system through art and community building, fostering the empowerment of mental health and wellbeing as a civil right. For more information, visit http://WeRise.LA.