VALOR
Housed within the historic Bob Hope Patriotic Hall, The Veterans and Loved Ones Recovery (VALOR) Program's mission is to provide mental health services to Veterans and their families, regardless of VA eligibility status and military discharge, in a supportive environment. The VALOR Program aims to serve as a national model of community involvement and strives to achieve the Department of Mental Health's (DMH) goals of hope, wellness, and recovery for Veterans in Los Angeles County.
LACDMH's VALOR Program envisions the restoration of hope and honor to the most vulnerable, un-served, and underserved Veterans and their families as they reintegrate into society. Team members assist these Veterans in establishing a personal mission and identity, developing a meaningful connection and sense of camaraderie with other Veterans, and obtaining a knowledge base of resources and systems available to them. Our dedication to improving overall wellness of our Veterans will be evidenced by a reduction of homelessness and increase of housing linkages and mental health services, and building partnerships with Veteran's services providers.
If you need immediate assistance or need to find services in your area, please contact the VALOR information line at (213) 763-0300 from 8 a.m. to 5 p.m., Monday through Friday. After hours,you can call the ACCESS Center 24/7 Helpline at 1-800-854-7771.
Learn more about the VALOR Program
Veteran Peer Access Network (VPAN)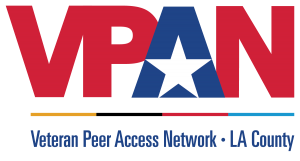 The Veteran Peer Access Network is a collaborative effort made up of LA County Veterans, government agencies and service providers, with goal of connecting Veterans to services they need in LA County. This includes:
Accessing veteran benefits
Physical and mental health care
Housing and employment assistance
Legal services
Support reintegration into the community