by H. Chung So, Public Information Officer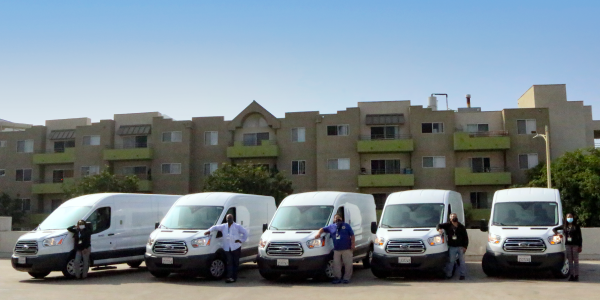 LACDMH mental health teams and specialized vans are now embedded at L.A. City Fire Station No. 4 (Downtown L.A.) and No. 59 (West Los Angeles) and actively participating in emergency response calls that come into 911 or to the L.A. City Police or Fire Department as part of the LACDMH Therapeutic Transportation Pilot Program (TTP). Mental health teams respond to a call for someone in crisis in specially designed vans, allowing the client's healing and recovery to begin from the first moment of contact. All vans are staffed with a psychiatric technician, a peer support specialist, and a clinical driver.
TTP is available at Fire Stations No. 4 and No. 59 seven days a week, 24 hours a day, to provide therapeutic support, de-escalate situations, and ensure safe transit to a mental health center. In the coming months, TTP will become operational in three more L.A. City Fire Stations: No. 40 (San Pedro), No. 77 (Sun Valley), and No. 94 (South Los Angeles). When fully launched, TTP will be operational in at least one L.A. City Fire Station in each L.A. County Supervisorial District.
This pilot is part of LACDMH's broader strategy to integrate our care team into the county's emergency response system and utilize our department's mental health experts to address mental health crises, which will hopefully improve outcomes related to mental health-related 911 calls while relieving the burden on hospital emergency departments and other first responders.
"The most important thing is that the [mental health] patients get the best care possible effectively and quickly," said LAFD Chief Ralph Terraza.
For more information about this pilot, check out this fact sheet.