Connie D. Draxler, M.P.A.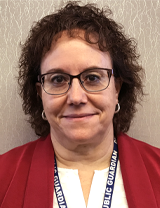 Acting Chief Deputy Director
Los Angeles County Department of Mental Health
Connie Draxler is the Acting Chief Deputy Director for LACDMH, where she oversees the implementation and ongoing operation of all administrative programs and processes for the department.
Prior to this role, Ms. Draxler was the Senior Deputy Director in charge of LACDMH's Re-Entry Initiatives. In this capacity, she oversees Countywide Engagement programs, Forensic Services, and the Office of the Public Guardian, with the mission of providing relentless outreach and engagement with individuals experiencing homelessness, incarceration, or involuntary care, as well as developing and implementing clear pathways to community reintegration.
Before her Senior Deputy role, Ms. Draxler worked over 25 years in conservatorship programs serving as the Deputy Director of the Los Angeles County Office of the Public Guardian and Chief Deputy of the Orange County Public Administrator/Public Guardian office.
In addition to her leadership roles in conservatorship programs at the county level, Ms. Draxler has served on the Executive Board of the California State Association of Public Administrators, Public Guardians, and Public Conservators and remains active in their legislative committee. Ms. Draxler continues to have a passion for legislation and intends to bring this experience to a broader range of legislation impacting re-entry initiatives.
Ms. Draxler received her Bachelor of Science degree in Rehabilitation Psychology from the University of Wisconsin-Madison and her Master of Public Administration degree from California State University-Long Beach.